Honorary Consul of Belarus in Flanders Karel Van Hoorebeke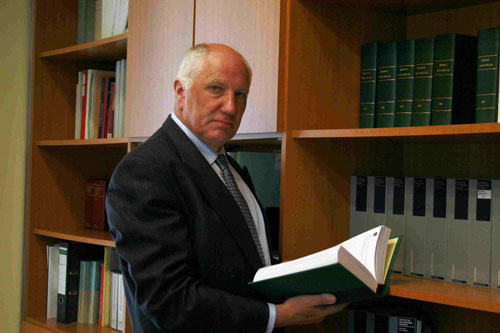 Ladies and gentlemen,
Dear friends of Belarus and Belgium,

The Minister of Foreign Affairs of the Republic of Belarus appointed me on 2 February 2009 as Honorary Consul of the Republic of Belarus in Ghent with jurisdiction for the Flemish Region. The accreditation of the Belgian Minister of Foreign Affairs followed on March 11, 2009.
It is for me a great honour to represent Belarus in Belgium.
The mission of an Honorary Consul includes the promotion and development of the commercial, economical, social, cultural and scientific relations, and the promotion of the good relationship between the two countries.
Since my first time in Belarus in 2004, I have noticed that Belarus or "Wit-Rusland" offers enormous opportunities.
Belarus has excellent universities and colleges that deliver highly qualified experts. People are willing to work and are very motivated.
The younger generation has the will and the strength to succeed economically and socially.
The beneficial geographic position of Belarus – being the link between Russia and Europe – is of great strategic importance.
Thanks to the Custom Union between Belarus, Russia and Kazakhstan the Euro-Asian integration is further developing into a real Eurasian Economic Union. At the same time, Belarus is also looking to improve the cooperation with Europe.
Maybe at first with a little hesitation but now more and more actively, the European countries are discovering the opportunities that Belarus has to offer and are strengthening the collaboration with Belarus.
With the growing accessibility of Belarus, we certainly are noticing a growing interest within the Belgian business community for the Belarusian market.
Meanwhile, already some Belgian businessmen have dared to go to this still rather unknown country, in a not so familiar environment, not to mention with a total different language. Yet, they have taken the step and several of them with great success.
And yes, our entrepreneurs should realize that there are many opportunities also beyond our borders and the borders of our neighbouring countries. And it is not necessary to go as far as China, India or Brazil.
Also on the scientific and cultural level the relations between our countries have to be strengthened.
I am convinced that our universities and colleges are willing to set up exchange programs so that students from Belgium can go to Belarus and vice versa.
In 2012 a cooperation agreement was signed between the Belarusian State University and the Ghent University in order to promote international, academic, cultural and scientific exchange.
And every year, young students from Belarus are coming to Belgium to study at the College of Europe in Bruges.
I believe it is not possible to achieve something on your own. This counts for Belarus as well as for Belgium and Flanders. It is only through bilateral cooperation that our talents can be revealed and new possibilities can be discovered.
I am delighted that I, as Honorary Consul of the Republic of Belarus for the Flemish Region, can support and develop the mutual cooperation between the two countries in order to come to a win-win situation for both our countries.
In 2013, I have taken the initiative – together with several partners – to start with a Flemish Chamber of Commerce that focuses on the markets of Russia, Kazakhstan and Belarus, the three member countries of the Customs Union that has been established in 2010. Together, these three countries give our entrepreneurs an excellent opportunity to expand their activities and to broader their horizons, especially in times of economic stagnation in Europe. So the idea came to guide and structure the growing cooperation within a Flemish Chamber – open to all Flemish and Belgian companies – but in particular with a focus on small and medium-sized companies, because especially these companies can benefit from such support. The overall objective of the Flemish Chamber is the creation of a platform for entrepreneurs who are interested in the markets of Russia, Kazakhstan and Belarus and to bring them together with businessman with experience in the CIS-countries.
Finally, if you have questions concerning your business activities in Belarus and Belgium or if you would like to discuss other non-commercial projects, please feel free to contact me at my law office in Ghent or my colleague Jeroom Joos who is the Belgian representative of my office in Minsk.

Karel Van Hoorebeke

Lawyer,
Former member of the Belgian Federal Parliament
Honorary Consul of the Republic of Belarus for the Flemish region